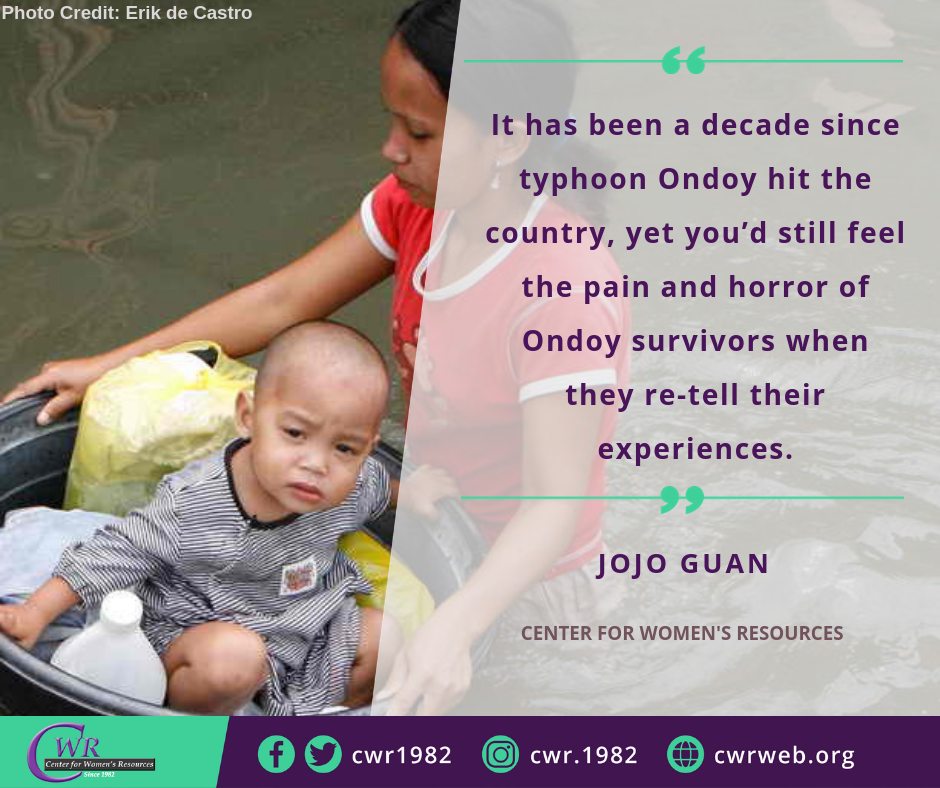 Tears still flow when survivors recall what happened to them ten years ago, when typhoon Ondoy devastated the Philippines in September 2009, affecting 4.9 million Filipinos. The disaster-affected communities in Marikina show worrying signs in the re-telling of their experiences, indicating the need for post-disaster counselling.
"It has been a decade since typhoon Ondoy hit the country, yet you'd still feel the pain and horror of Ondoy survivors when they re-tell their experiences," says executive director Jojo Guan of the Center for Women's Resources (CWR).
According to Guan, it is important that both local government units and national government agencies must realize the need for a long-term monitoring of health status in disaster-affected communities, with a focus on psychosocial wellbeing.
"Trauma is something that should be taken seriously by the government. Those hidden wounds are as painful as those that are visible," Guan explains.
Recalling the Horrors
CWR's call for post-disaster counseling was prompted by the visit last August of the staff and the participants of #HerStoryOurStor: Digital Storytelling on Women and Environment Training, a project of the CWR in partnership with Internews and Earth Journalism Network, in two Marikina barangays that were affected by Ondoy. Women residents who survived re-told the horrors of typhoon Ondoy.
"Mabilis ang pangayayari, nakatatakot. Ang bilis tumaas ng tubig. Nasa trabaho noon ang asawa ko kaya ako lang naiwan sa mga anak namin nang tumaas ang tubig. Kinailangan ko sila (mga anak) paunahin sa evacuation center, nagpaiwan pa ako sa bahay dahil kailangan ko ayusin ang mga gamit at pagkain namin," a mother and resident of Barangay Sto. Niño shared during the visit.
"Sa totoo lang, nakanenerbiyos na minsan ang ulan. Parang naalala mo yung nangyari tapos iisipin mo na baka mamaya maulit na naman," she added.
Another mother, a resident of Barangay Malanday recalled how she and her newly-born child had to transfer from one roof to another, using a thin piece of coco lumber as a bridge. "Nanginginig ako pero naisip ko na lang na kailangan kong makalipat sa mas mataas na lugar para sa aking anak," she said.
Both barangay residents recalled that relief and services did not come at once. They relied on each other for survival and care. One mother in Barangay Malanday, who had a sari-sari store and had accommodated a hundred individuals in her house, gave away all her goodies so that everyone would have something to eat for two days.
The need for a long-term solution
Guan points out the lack of a long-term solution to a country regularly visited by typhoon at least 20 times in a year. "We are a disaster-prone country, yet the national government is often caught off-guard by disasters. So, how can we expect it to provide psychosocial services, when it can't even provide adequate and rapid disaster response services like evacuation, relief, and rehabilitation?"
After typhoon Ondoy ravaged the National Capital Region and 30% of Philippine provinces, typhoons Pablo, Sendong, and Yolanda hit the country few years after. Millions of Filipinos were affected, leaving hundreds dead, injured, and missing.
"The national government can look into the efforts of the Marikina local government on how it has learned its lesson after Ondoy," Guan says.
"The most significant action every time there is disaster is the community support especially for the crucial 48 hours. Thus, the people should make use of collective action and demand efficiency from the government when it comes to providing services, especially during disasters," Guan stresses.
In commemoration of the 10th anniversary of typhoon Ondoy, the Center for Women's Resources joins the city government of Marikina and the Gabriela Women's Party-Marikina Chapter in a lecture-forum, "10 Taon: Paggunita sa Hagupit ng Ondoy | Sumulong, Maging Handa" today, 1:00 pm to 5:00 pm at Barangay Malanday Covered Court in Marikina City. A short candle lighting program will also be held along the Marikina riverwalk after the program.